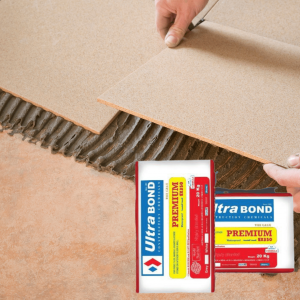 Product Description: Ultra bond premium EX350 is polymer-modified cement-based quick set tile adhesive specially designed for heavy-duty applicants for fixing vitrified tiles, slabs, natural stones and large size tiles on an interior wall and floor surfaces. Not recommended for the exterior where direct sunlight comes.
Characteristics:
✔Temperature and chemical resistant
✔Very good adhesion
✔Non toxic
✔Water cleanup of uncured adhesive Very easy to apply
✔ Dual purpose for wall and floor High bond strength
✔ Economical
 Direction & Instruction for use: Add 5 litter clean water with 20kg of Ultra BOND PREMIUM EX 350 and stir well until a lump-free compound is achieved. The surface to be tiled should be clean and sound. Old surfaces must be free from any kind of grease oils wax etc. At site addition of water shall be adjusted to attain desired consistency and mix thoroughly until a homogeneous paste is obtained. Allow tiling to set for 24 hours prior to filling joints.
 Product Application: Apply Ultra BOND EX 350evenly on the substrate. Use a notched trowel to have a uniform thickness of 3mm minimum. Apply the tiles on the substrate and press them firmly, while making sure that the paste does not slip from the tile sides. Ultra Bond EX 350can also be applied on the back of tiles to ensure full adhesion with all the surfaces.
Features & details
✔️Cement based adhesive for tiles, Internal & nbsp; bonding of ceramic tiles and mosaics, single-fired and double-fired tiles for floors, walls and ceilings

✔️Appearance- Powder

✔️Mixing water for use a slurry key- 5L/1bag 20kg

✔️shelf life- 12 months of the original packing in a dry environment

✔️Coverage- 1 bag= 20kg/ 4.8m2 in 3mm thickness
Product information
| | |
| --- | --- |
| Manufacturer | ‎ULTRA ADHESIVES IND LLC |
| Part number | ‎EX-350 |
| Item Weight | ‎20 kg |
| Item Weight | ‎20 Kilograms |
| Manufacturer reference | ‎EX-350 |
| Color | ‎White |
| Installation Method | ‎Fixing Tile on Indoor Floor & Wall |
| Coverage | ‎3.75 square meter |